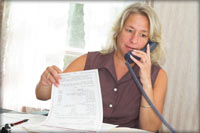 By law, you are financially protected when you suffer an injury at your place of work. The Commonwealth of Pennsylvania requires every employer to maintain insurance to compensate you in the event that the unexpected happens, entitled workers' compensation. However, many workers' comp insurance programs leave you with a battle of red tape. Our team of workers' compensation lawyers excels in cutting through that red tape and to get you your rightful compensation. That is where workers' compensation attorney Gabriella Hashem Farhat and our team of experts step in – to help ensure you receive satisfactory care and fair compensation to aid in your recovery.
Our workers compensation attorneys will work hard to provide you with the following:
Investigating, evaluating and filing of claims with proper government agencies
Preparation for and appearance at workers' compensation hearings
Assisting you in getting your medical bills paid
Assisting you in getting your wages (indemnity) benefits paid
Assisting you in getting a settlement, if you so desire
Representing you in any appellate process
---
Our Workers' Compensation Attorneys for Lancaster County
---
Workers' Compensation Resources
---
Before you decide to retain us for your workers' compensation case, here are a few self-help guides of scenarios that could happen over the course of handling your case. We hope that this provides you with some general guidelines concerning workers' compensation, answers some of the many asked questions about your case, and familiarizes you with the workers' compensation system.
---
It will be our pleasure to assist you in any way possible.
---
Contact Our Workers' Compensation Lawyers