Gabriella Hashem Farhat, Esquire
Managing Partner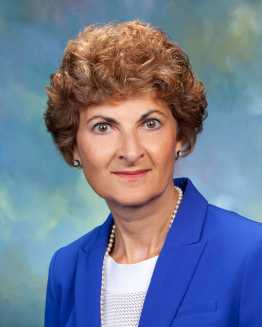 Phone: 717.299.7342
Fax: 717.399.1827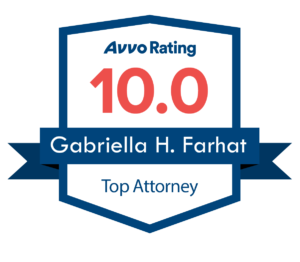 Attorney Farhat is a member of Pennsylvania Association for Justice and the distinguished honor to be a Life Member of both the Million and the Multi-Million Dollar Advocates Forums1
1Established in 1993, the Million Dollar Advocates Forum (which includes the Multi-Million Dollar Advocates Forum) is one of the most prestigious groups of trial lawyers in the United States. Membership is limited to attorneys who have won million and multi-million-dollar verdicts and settlements. There are over 4000 members throughout the country. Fewer than 1% of U.S. lawyers are members.
The quality of our membership is very impressive and includes many of the top trial lawyers in the country. Many of our members have achieved numerous million and multi-million-dollar results (several members have won billion-dollar cases). Their practice areas include most areas of litigation, including: major personal injury, products liability, malpractice, construction, environmental, employment, insurance and business litigation. The common fact is that they have each demonstrated, in an objective and tangible way, their ability to accomplish superior results in complex cases. Certification by the Million Dollar Advocates Forum provides recognition of such accomplishment and a national network of experienced colleagues for information exchange, assistance and professional referral.
Since 1993 membership has been based upon strict objective qualifications. Please see MEMBERSHIP QUALIFICATIONS & PROCEDURE.
Gabriella H. Farhat graduated with honors from Archbishop Carroll High School for Girls in Radnor, Pennsylvania. She placed second in the National Optometrist Orator's Contest and was a member of "Who's Who Among High School Students." A Dean's List graduate of Villanova University in Villanova, Pennsylvania, she majored in Political Science and Modern Languages, with a Pre-Law concentration. She was President of the Pi Sigma Alpha Political Science National Honor Society, Secretary of the French Club, a member of the Basketball Club and the Villanova Pre-Law Society. Ms. Farhat is a 1986 graduate of Villanova University School of Law where she participated in the Reimel Moot Court Competition and was a member of the Honor Board and the Environmental Law Society.
While attending law school, Ms. Farhat always held a part-time job and served as a summer Law Clerk to both the Honorable Raymond Broderick and the Honorable Richard A. Powers, III, both of the U.S. Federal Courthouse, Eastern District of Pennsylvania.
She has been with Pyfer, Straub, Gray & Farhat, P.C. for over 32 years, since September, 1986, and became a shareholder in 1991. She has been admitted to practice law in Pennsylvania and is a member of the Pennsylvania and Lancaster Bar Associations, the Pennsylvania Association for Justice, and the American Bar Association. She may also appear before the United States Federal District Courts for both the Eastern and Middle Districts of Pennsylvania and the United States Court of Appeals for the Third Circuit. She has also appeared before the Pennsylvania Superior Court. Ms. Farhat has been admitted to the United States Supreme Court.
Her areas of practice include general civil litigation, which consists of personal injury matters, automobile accidents (or just plain car accidents, motor vehicle accidents), motorcycle accidents, wrongful death and or survival actions, dog bites, workers' compensation cases, unemployment compensation cases, social security matters, and slip and fall incidents. She is also thrilled to be practicing in a new area of the law in the Firm: Education Law.
She is active in her community and enjoys assisting in numerous volunteer fund-raising events. Previously affiliated with the Turks' Head Auxiliary of The Chester County Hospital, Gabriella has also served for a few years as a mentor to high school juniors through the Lancaster Chamber of Commerce program. At various times, she has served as a committee member of her local church. In her spare time, she enjoys traveling, reading, cooking, studying foreign languages and spending quality time with her husband, daughter, family and friends.
Our firm has been chosen by Lancaster residents, Who's Who in Business, as your leading Personal Injury law firm in 2011 and 2013.
Who's Who in Business 2011 Winner
Who's Who in Business 2013 Winner
---
Just voted to the board of Mom's House of Lancaster
Mom's House is a  center that "empowers single mothers to complete their education and find meaningful and gainful employment". Mom's House believes that "mothers have the right to raise their children in conditions of dignity and financial independence". See https://momshouselancaster.org/