Where there's a will
It is not an easy task for parents to decide their children's future
By Catherine S. Molitoris New Era Staff Writers As seen in Lancaster Intelligencer Journal, Lancaster NewEra and the Lancaster Sunday News
Even before her first child was born, Chris Duncan was thinking of the future.The Millersville woman and her husband Mark began drafting a will while Chris was pregnant with her son Jamie, now 7.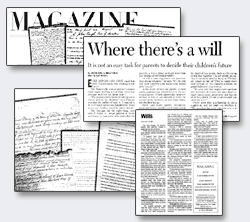 "My primary motivation for having a will was to protect our children," says Duncan, now also the mother of Sam, 4. "I wanted to be sure that-if-something-happened to Mark or me, our children would be taken care of."
The Duncans did the right thing, says John F. Pyfer Jr., senior partner at Pyfer Partners in Lancaster, who notes that for parents, a will is about so much more than just doling out personal property.
"A will is your suggestion for guardianship of your children," he says. "It's the only way to be sure everyone knows your wishes after you die."
In the death of only one parent, in most cases, guardianship would revert to the surviving parent. If both parents die, however, without a will, it can become a battle between family members to determine where the children will go.
Pyfer says many parents mistakenly think that family members or friends will all agree on what's best for their children.
"That doesn't always happen," he says. "After a surprise death, and in this case, the death of two people, there is often a tug of war that happens. You get people saying "You're too old to care for them,' or 'The kids are closer to me' or 'Our children intended the grandchildren to stay with us.'
"It's very rare that couples have sat down with both sets of in-laws and had a heart-to-heart conversation about what will happen after their death. It's not a conversation you normally have."
Pyfer notes that guardianship is just a suggestion, and the court can overrule it. "The guardian has to be someone who is in the child's best interest," he says.
For this reason, he recommends that parents choose a guardian and an alternate.
When choosing a guardian, he says, parents should consider all the options.
"I suggest they think of someone who they feel very comfortable with and who they are very close with," he says, "if they could think of anyone in the world, who would it be? Then go to that person and say, "This is what I'd like you to do."
For the Duncans, choosing a guardian involved many factors.
"We wanted what would be the least disruptive for Jamie and Sam." Duncan says. "If something were to happen to us, we wanted someone who would take the best care of them but who could keep them here, where they have established their lives and where their friends are. We didn't like the idea of our children, if they've just lost their parents, having to be moved away from this area to live with someone else."
For this reason, the Duncans updated their will when they moved to Pennsylvania from New Jersey a few years ago, and changed their sons' guardians in the process.
Pyfer recommends that parents revisit their wills every five years, or after a major life experience such as a birth, death or marriage.
Duncan says she and her husband also considered the lifestyle of the people they chose as their sons' guardians.
"We wanted someone who had the same values we have," she says. "We considered things like, do they have children or not? Would they be willing and able to physically accommodate them in a space but also in their lives? Were they used to having children around, and were they used to everything that brings in terms of responsibility?"
Writing a will is relatively easy, Pyfer says, adding that parents just need to make an appointment with an attorney.
The process of writing a will typically takes under an hour, Pyfer says.
"The hardest part is just making the appointment to come in and write a will," he notes, "because it makes us see our own mortality."
He also urges parents to write a power of attorney and living will, covering all the legal bases in case of death or health crisis. He charges between $100 and $150 for a basic will.
For property management, Pyfer says the will should set up a trust, because in Pennsylvania, children under 18 can't hold property in their own name.
"I recommend using a financial institution as the trust, because an individual typically doesn't want the financial responsibility of managing a trust," he says.
After the will is written, he suggests storing it in a safe deposit box at the bank where you normally do business.
"Make sure someone knows where the key is," he says, "or if you own your own lock box at home, make sure the executor of your will knows where you keep your keys."
The worst place to keep a will is at your lawyer's office, he says, since family members may not know who your lawyer is.
Although the process of making a will is relatively easy, Pyfer cautions, "I don't want to underestimate the significance of this decision."
For her family, Duncan says it was not a decision she took lightly.
"Your will is really your voice," she says. "You can't assume everybody will do what you want after you're gone."
She was especially concerned about alleviating any potential arguments that could arise without a will.
"I don't want anybody to have acrimony after we die," she says. "I want them to support my children and not worry about what Mark or I wanted. I don't want them to make things any harder than they already are.
"It's important that we make those suggestions now, so that when I die, nobody will every say, 'I wonder what she would have wanted? Are we doing the right thing?' "
---
When it comes to Scouting, John Pyfer is no tenderfoot
By Paula Wolf, Sunday News Staff Writer As seen in Lancaster Intellignecer Journal from June of 2005
Given his accomplishments as an attorney, it's no surprise John F. Pyfer Jr.'s resume is six pages long.
But three of those pages are dedicated to another cause to which he has been devoted, now for more than half a century: the Boy Scouts of America.
Today is the start of Boy Scout Week, and Pyfer's involvement with Scouting shows no signs of slowing down.
In February 2003, he got to meet President George W. Bush when he was among eight Scouts chosen to deliver the Boy Scouts' annual report to the president in the Oval Office.
Age: 58.
Hometown: Willow Street.
Current residence: Lancaster.
Family: Wife of 34 years, Carol T. Pyfer; son John F. III (Trey), 30, who is also an Eagle Scout; and daughter Carol Lee (Carrie), 25.
Education: The Peddie School, class of 1965; Haverford College, class of 1969; Vanderbilt University School of Law, class of 1972.
Occupation: Attorney at law, founder and senior partner of Pyfer Partners.
How long I've been active with the Boy Scouts: Since July 25, 1954.
How I got involved and why: Initially I joined Cub Scout Pack 58 (Den 3), which was sponsored by Willow Street United Church of Christ, where I attended church school. After earning my Arrow of Light, I became a member of Troop 58 and, due to the tireless efforts of the Scoutmaster, Robert Shaub, earned my Eagle rank on Jan. 10, 1962. Bob Shaub remains one of the most important men in my life. He was a role model to the Scouts of Willow Street because he lived the Scout Law in his everyday life and showed us how important Scouting's values were.
The positions I've held with the organization over the years: Council commissioner, council president, area president, northeast region vice president, national committee member.
What Scouting means to me: Each morning I repeat the Scout Law and each night I ask myself if I followed the Scout Oath ("On my honor I will do my best to do my duty to God and my country and to obey the Scout Law; to help other people at all times; to keep myself physically strong, mentally awake and morally straight").
Some of the highlights of my Scouting career, in addition to meeting President Bush: In 2001, I was named a Distinguished Eagle Scout. I have also had the privilege of attending six International Jamborees and seven National Jamborees.
My other community involvements: President of Willow Street UCC, twice past president of the Willow Street Lions Club, chairman elect of the Heritage Center of Lancaster County.
My unfulfilled ambition: To play Conrad Birdie in the musical "Bye Bye Birdie."
The person in history I most admire: Lord Robert Baden-Powell, founder of the Boy Scouts.
Whom in the world I'd most like to have dinner with: My wife. There is no one more special in my life.
Favorite music: Anything from the 1960s.
Favorite TV show: "Law & Order."
Favorite foods: Filet mignon with baked potato, Caesar salad and French apple pie.
Favorite restaurant: Carr's.
Pastime/hobby: Raising orchids. My son and I operate Pyfer Greenhouses at 25 Rider Ave. where we have more than 7,000 orchids and also board tropical patio plants. It is the only pastime other than Scouting that totally relaxes me from the courtroom.
Magazines I read: U.S. News & World Report and Sports Illustrated.
The best movie I've ever seen: "Follow Me, Boys!" (Fred MacMurray portrays a Scoutmaster).
My favorite vacation spot: Anyplace warm where I can scuba dive, like Scouting's Florida Sea Base.
I always try to avoid: Park City.
My idea of a good time: Spending the day in my greenhouse, repotting orchids.
Something that can always be found in my refrigerator: Ice cream.
A miracle gadget I'd like to see invented: something to make parents actively participate in their children's activities.
Three adjectives that describe me: Caring, detail-oriented, impatient.
Ten years from now I want to be: Traveling the world promoting scouting.
Twenty years from now I want to be: Still alive.
---