Lancaster County Preservation Trust Gourmet Gala
March 23, 2015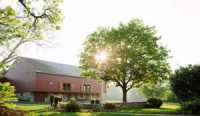 The Farm at Eagles Ridge to Host the 2015 Gourmet Gala
The Farm at Eagles Ridge at 465 Long Lane, a few miles from downtown Lancaster, has been chosen as
the host site for the 2015 Gourmet Gala on Sunday, May 17, from 4 p.m. to 7 p.m.
" As part of our on-going education outreach efforts, the Historic Preservation Trust selects a historic property in Lancaster County each year to showcase as host of our annual gala fundraiser," said Lisa Horst, president of the Historic Preservation Trust Board of Directors. "In addition to being a site suitable for hosting one of Lancaster's premier social events, the site must be historically significant. The Farm at Eagles Ridge dates back to the1820's, and it is an excellent example of how historic buildings can be given new lives through adaptive reuse."
The Farm at Eagles Ridge was the recipient of a 2013 preservation award for restoring its 3,200 square-foot barn which, paired with a renovated corn crib and stone farmhouse, created a unique special events venue. "It took extensive work to restore the buildings on this farm in such a way that would preserve their historic character while transforming them into a state-of-the-art
facility," said Betsy Herr, co-owner of The Farm at Eagles Ridge – today one of the most popular wedding venues in Lancaster County.
More than 30 of the area's best restaurants, caterers, bakeries, personal chefs, wineries, breweries and coffee companies will be serving their specialties. Among those are Lombardo's, La Petite
Patisserie, The Scarlet Runner catering, Willow Valley Communities Culinary Services, Rettew's Catering, Hess's Barbecue, Inn at Bully's Restaurant & Pub, Railroad House Inn, Lickity Split, Gracie's on West Main, Toadally Caribbean, Federal Taphouse, Seasons Olive & Vinegar Taproom, Breaking Bread Catering, Lancaster Hummus Company, Miesse Candies, Byers Butterflake Bakery, Dutch Haven Shoo Fly Pie Bakery and Grandma Jack's Gourmet Popocorn, Lancaster County Coffee Roasters, Twin Brook Winery, Stargazers Winery, Nissley Vineyards & Winery Estate, Waltz Vineyards, Saint Boniface Craft Brewing Company, Lancaster Brewing Company, Moo-Duck Brewery and Yards Brewing. Music for the evening will be provided by Temple Avenue.
Mrs. Horst said Gala sponsors are being sought to join media sponsor Lancaster County Magazine and lead sponsors PPL Corporation and Willow Valley Communities; supporting lead sponsors White Horse Construction, Shoppes at Belmont, and Lancaster Solid Waste Management Authority; and supporting
sponsors Bertz, Hess & Co., Conestoga View Nursing & Rehabilitation, Donegal Insurance Group, NxtBook Media, RLPS Architects and UGI Utilities. Other sponsors include Lusk & Associates-Sotheby's International Realty (Anne Lusk), Benchmark Construction, Berkshire Hathaway (Andy Esbenshade), Berkshire Hathaway (Jeff LeFevre), Brookline Builders, Certified Carpet, D. H. Funk & Sons, Lancaster Ironworks, May Metzger and Zimmerman, Perron Construction, Preservation Works, Puffer Morris Realty,
Pyfer, Reese Straub Gray & Farhat, PC, Rhoads Energy, Rhoads Energy, Rohrer's One Hour, RSC Heating & Air Conditioning, Select Security, Senior Tax Strategies, Two Dude's Painting and
Ville Painters.
A Gourmet Gala ticket costs $75 for members of the Historic Preservation Trust or the Central Pennsylvania Preservation Society or $85 for non-members. A block of 10 tickets may be purchased for $650.
Related Articles