BEWARE – School is Back in Session!
September 5, 2018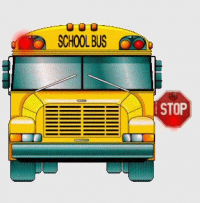 Bus stops, school zones and increased traffic have been slowing down your morning commute.  You have probably noticed police presence in and around schools as a reminder to SLOW DOWN.  Be alert and be cautious!  School-related traffic offenses in the vehicle code are summary offenses in Pennsylvania, but have serious consequences. Violating Pennsylvania's school-related traffic offenses could cost you a lot of money and could result in a suspension of your driver's license! 
Many of us pass school speed zones during our morning or afternoon commute.   The speed zone in a school zone is marked by an official traffic-control device at the beginning and end of each zone.  The speed limit for marked school zones is 15 MPH.  Speeding in a school zones greater than 5 MPH carries higher fines and if you are cited for speeding in a school zone greater than 11 MPH over the limit, you face a fine of at least $500.  
What about bus stops and approaching buses with flashing "amber" lights?  If you see a bus approaching with the yellow flashing lights, you are to proceed past the bus with caution but be prepared to stop when the yellow lights are flashing.  However, if you see the red lights flashing and the stop arm activated, you must stop!   Also, be aware that if a school bus is stopped at an intersection with flashing red lights, you must also stop at that intersection until the lights are no longer activated – regardless of which way you may be turning or which way the students may be walking.  And, if you encounter an approaching school bus on a multi-lane road, yes, you guessed it – STOP!  A driver is only exempt from stopping for an approaching bus when the bus is on a "separate" roadway (such as a divided highway).  
A violation for failing to stop for a school bus in any of the above scenarios will result in a fine of $250, five points being assigned to your driver's record and a 60-day license suspension!  
What this means for you:  If you have been cited for a violation of the school-related traffic offenses or ANY traffic-related offense, we can help! Many traffic offenses carry fines and suspensions that are unknown to the common motorist.  Make Pyfer Reese your choice!  Call 717.299.7342 to schedule a consultation with Attorney Adams before entering a guilty plea to any traffic-related offense. 
~Heather L. Adams, Esquire
Related Articles