Pennsylvania Passes Driver's License Suspension Reform
November 20, 2018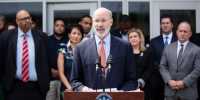 On April 22, 2019, a new law affecting driver's license suspensions will go into effect.  The new law removes mandatory PennDOT-imposed license suspensions for those convicted of certain crimes and for those who fail to pay child support.  On October 24, 2018, Governor Wolf signed into law House Bill 163 which removes drivers' license suspensions as a penalty for many non-violent offenses that are not connected to driving.  Proponents of the Bill argued that license suspensions had a negative impact on defendants long after they had completed their sentence.  Many Pennsylvanians faced license suspension from PennDOT after being convicted of drug offenses, underage drinking, or failing to pay child support.  The suspensions hindered those trying to find employment or those traveling to and from work, driving to various appointments  or the ability to utilize support-based services that offer help for those trying to better their lives.  
House Bill 163 does not remove a mandatory license suspension for crimes where someone is operating a vehicle, such as DUI.  The Bill removes a license suspension for the following:  drug offenses, purchase of tobacco by a minor, underage drinking, misrepresentation of age to buy alcohol, carrying a false ID card, and failing to pay child support.  
It is important to note that House Bill 163 is not retroactive, meaning that if you are convicted of the affected offenses before April 22, 2019, PennDOT will still suspend your driving privilege.  
What this means for you:  If you have a current charge of possession of drugs, underage drinking, or facing a suspension for failing to pay child support, contact us to discuss how you may be able to take advantage of this new law. Call 717.299.7342 to schedule a consultation with Attorney Heather Adams.
~Heather L. Adams, Esquire
Related Articles