Education Law – What Parents Need to Know About Social Security for Children
April 16, 2018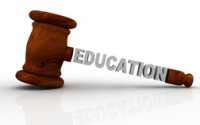 Children with qualifying disabilities are entitled to receive SSI (Supplemental Security Income) benefits so long as their household resources are under a limit set by the Social Security Administration.
Many people are familiar with the concept of Social Security benefits for adults, but are you aware that disability benefits are available to children as well? The Social Security Administration offers multiple benefits to students, including benefits available to students whose parent is deceased, or even college students who became disabled before age 22 and whose parent is deceased or collecting benefits. These benefits are based on the parent's status, and do not necessarily have a limit for financial resources available to the student's family. For today's purposes, though, we would like to talk with you about benefits available to disabled children in low-income households.
Who qualifies as a disabled child? For Social Security purposes, a "child" is one who is under age 18 (or under age 22 and a student regularly attending school). When the child turns 18, though, the Social Security Administration will evaluate the disability according to the adult disability standards. A child may be eligible for SSI benefits as early as birth; there is no minimum age requirement. "Disability" means that the child has physical and/or mental impairment(s) which result(s) in marked and severe functional limitations and has lasted or can be expected to last for a continuous period of at least 12 months or be expected to result in death. There are special definitions for disability if a child is blind (it is the same standard as for blind adults), and there is no duration requirement for SSI blindness benefits.
Essentially, the Administration is looking to see if the child's disability limits his or her ability to function in school and initiate and sustain activities in daily life. In most cases, the Administration looks at six "domains" to determine whether an impairment is limiting enough to meet the definition of disability. The medical and school records must demonstrate a "marked" limitation in two (2) domains or an "extreme" limitation in one (1) domain. These domains are:
1.     Acquiring and using information;
2.     Attending and completing tasks;
3.     Interacting and relating with others;
4.     Moving about and manipulating objects;
5.     Caring for yourself; and,
6.     Health and physical well-being.
The Social Security Administration does have a "Compassionate Allowances" list. The conditions on this list meet the standards for disability benefits and so, the evaluation process is shortened.
What income or resources does the Administration consider? Generally speaking, the Administration will look at the income of the parent(s) with whom the child lives, including stepparents. A portion of the parents' income and resources will be considered available to the child. Deductions are made for other children living in the home, and the remaining amount is considered to determine whether the child meets the income and resource requirements.
What about medical benefits? In most states, including Pennsylvania, if a child receives SSI benefits he or she will also be eligible for Medicaid. For more information about Medicaid, you can look on the Internet on the Centers for Medicare and Medicaid Services webpage at https://www.medicaid.gov/. Children living overseas with an active duty military parent are not eligible for Medicaid, but may still receive SSI benefits.
What this means for you: At Pyfer Reese, we know that parents are fighting hard to ensure their children receive the education and benefits they deserve. We want to team with you to make sure your child receives the best benefits possible. If you have a question about your student's entitlement to Social Security benefits, we can help. Attorney Gabriella H. Farhat is an authorized representative with the Social Security Administration, meaning they can advocate for you or your child to receive benefits.
Make Pyfer Reese your choice! Call 717.299.7342 to schedule a consultation regarding your education law and or social security needs. 
Related Articles