Education Law: What You Need to Know
March 13, 2018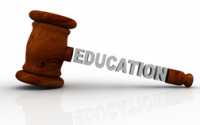 Studies ave shown that students with special needs, particularly students with mental health conditions, are at a higher risk for involvement with the juvenile justice system than their nondisabled peers. Some factors that make this risk worse include:
*Inadequate training for educators;
*Zero-tolerance discipline policies in school;
*Lack of behavior interventions and supports; and
*Undiagnosed or mis-diagnosed mental health conditions.
At Pyfer Reese, we recognize the important work teachers and educators do, and we want to make sure they are equipped to properly address and meet the needs of your student. Because we also recognize that sometimes the needs of a student are not being met, and that is where we can advocate for you.
Schools have a legal obligation to provide Individualized Education Programs (IEPs) and services so that each student has access to a Free Appropriate Public Education. If you are concerned about your child's behaviors, you may request a special education evaluation. You may also want to ask your child and the appropriate educators whether any harassment or bullying is contributing to his or her behavior. Federal law requires schools to determine whether truant or suspension-worthy behavior is a manifestation of a disability. They must also evaluate whether the school failed to provide appropriate services and accommodations for the student.
What can you do, though, when your student does become involved in the juvenile justice system? The juvenile justice system is designed to offer "Balanced and Restorative Justice." An attorney advocate can work with the court to ensure that your child is treated fairly, that the cause of any behavioral problems is addressed, and that your child receives the help he or she needs. Juvenile Justice programming offers community services, attempts to meet educational needs, implements treatment for mental and physical needs, and provides training for employment or life skills. The goal is to provide the juvenile with the help he or she needs in the least restrictive way possible. For more information on the juvenile justice system, readers can visit the Juvenile Court Judges' Commission at www.jcjc.pa.gov.
But what about students who turn 18, or who leave the education system and continue into adulthood with needs that have not been addressed? In Lancaster County, we have a Mental Health Court. This is a specialty court program designed for criminal offenders who have been diagnosed with a "serious mental illness." Individuals may apply to the Mental Health Court, and a coordinator will review the application to determine if initial eligibility criteria is met. The application then needs approval from the Lancaster County MH/MR office and the District Attorney's Office to determine whether to refer the individual to Mental Health Court. These offices will consider the individual's criminal history, input from the victim, and input from the arresting or prosecuting police officer.
After a referral is made, the Mental Health Court Treatment Team will evaluate the suitability of the referral. If accepted, participation in Mental Health Court is voluntary, and the individual must comply with the treatment goals and expectations in order to remain in the program. The individual will be provided a case manager and a specialized mental health probation officer. Mental Health Court program completion takes approximately 12 to 18 months, in four phases. After a successful completion of each phase, the next phase requires fewer court appearances and less intense monitoring – but the treatment services remain in place.
You should also be aware of PFA and PSVI actions, which stem from criminal behavior but are processed through the civil justice system. A Protection From Abuse ("PFA") action is designed to offer protection to victims of violence or intimidation who have a family or household member relationship with the offender. A victim may seek a temporary PFA order, and the alleged offender will not be present. However, a hearing must be held within ten (10) days, and the alleged offender must be given notice and should be present at that hearing to represent himself or herself. This is a civil hearing, so the "burden of proof" is not as high as it would be to convict in a criminal proceeding.
The Protection of Victims of Sexual Violence or Intimidation Act ("PSVI") operates in a very similar manner to PFAs, except it is designed to protect victims of sexual violence or intimidation who do not have a family or household member relationship with the alleged offender. If you are served with notice of a PFA or PSVI hearing, we recommend contacting an attorney to review your rights and restrictions. If there is a temporary protective order, you will want to be very careful not to violate any of its provisions.
 What this means for you:  If you have questions about your student's education rights or if your pending criminal charges are related to a mental health condition, we can help you. For students, this may involve our team of education law attorneys, advocating for the student's needs and for the proper accommodations in a school setting. Or, it may require an attorney advocating for balanced and restorative justice in the juvenile justice system. For adults, this may involve an application to the mental health court and an attorney advocating for your acceptance into the program and guiding you through the program phases. Or if you need representation in a PFA or PSVI action, our experienced team of attorneys can provide the guidance and advocacy you need.
Make Pyfer Reese your choice – call 717.299.7342 to schedule a consultation regarding your education law needs or criminal charges.
Related Articles