COVID-19 May Increase Cyberbullying in Pennsylvania
April 28, 2020
With schools closed and quarantines in place due to COVID-19, there's been a surge of increased internet use among children and adults. This increase may make youth a target for cyberbullying.
Victims of cyberbullying or those accused of cyberbullying should seek an attorney for legal advice. It's not kid's stuff. It's a growing issue and the state is taking it quite seriously.
What is Cyberbullying?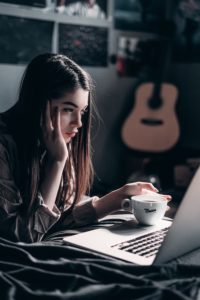 Cyberbullying is defined by the U.S. Department of Homeland Security as "the electronic posting of mean-spirited messages about a person, often done anonymously."
It can be sending someone threats or mean messages through email, text messages, or instant message apps; sending embarrassing information about someone through electronic devices or online messaging; creating a fake profile or website to make fun of a teacher or peer; using social media to ridicule; and other forms of cruel behavior.
COVID-19 has resulted in an increased reliance on digital communication. Cyberbullies may take advantage of this increased opportunity to victimize. Young victims of cyberbullying are especially susceptible because they may be less likely to reveal it is happening for fear they will lose access to Instagram, Snapchat, or other favorite social media apps.
In a recent article in Healio, a website that publishes news and research for medical professionals, Sameer Hinduja, PhD, professor of Criminology at Florida Atlantic University and co-director of the Cyberbullying Research Center, warned that when smartphones and social media became ubiquitous for students, cyberbullying increased. With children in quarantine, they will be using social apps even more. He warned that racist cyberbullying may occur, as he has had parents complain to him that their children are being accused of being carriers of COVID-19 because they are Asian.
Victims of cyberbullying or online harassment and those accused of either should rely on their state's legislation to define what constitutes cyberbullying. Fortunately, Pennsylvania does have a statute in place that defines bullying, which includes cyberbullying (internet bullying or online bullying).
If you or your child has been accused of cyberbullying or may be a victim of cyberbullying, call on the team of Gabriella H. Farhat, Gerryanne P. Cauler, and Daniel C. Bardo to help you navigate Pennsylvania's cyberbullying law and provide you with the legal help you deserve.
Is cyberbullying a crime in Pennsylvania?
The Commonwealth treats cyberbullying as a crime, and you can be arrested for cyberbullying. However, as each case is unique, the outcome may differ from one case to the next.
And prosecution will differ between cyberbullying among students and that among adults. For students, it might be handled through the school itself, according to school policy. In response to the pervasiveness of bullying among students in Pennsylvania, the Office of Attorney General launched Safe2Say in January 2019. Safe2Say is an anonymous reporting system that enables students, teachers, school administrators, and others to submit tips over the phone, online, or through the Safe2Say Something mobile app anonymously.
Cyberbullying: Civil or Criminal Case?
Cyberbullying can be both. If someone is threatening your safety, ruining your reputation, or intimidating you through the internet or the use of a mobile phone — or you've been accused of doing any of these acts ­— a civil suit or a criminal prosecution may be pursued. For a civil case, find an attorney who specializes in harassment, defamation of character, infliction of emotional distress, and possible other causes of action. For a criminal case, of course you would need an attorney that handles criminal matters to include criminal harassment, stalking, hate crimes.
General Statutes vs School Policies:
Pennsylvania requires that school policy contain disciplinary consequences and may include acts that occur outside of school settings if other statutory requirements are met. The Pennsylvania Department of Education must review each school's anti-cyberbullying policy.
Cyberbullying can be complicated. Our team of legal attorneys can determine whether general statutes or school policies apply to your case and whether to pursue a criminal and or a civil case.
The Legal Punishment for Cyberbullying?
The punishment for cyberbullying is unique to each case. Punishment can range from having to go through a "diversionary program" or educational process, to facing imprisonment.
Our legal team can help you navigate the law as it applies to cyberbullying. Call us 24/7 at 717-394-3004 or 717.299.7342. Pyfer Reese Straub Gray & Farhat, PC. By Gabriella H. Farhat, Esquire.
General Resources and References:
http://napsa.com/wp-content/uploads/2011/12/Bullying_and_Cyberbullying_Laws1.pdf
http://sw-cj.fau.edu/sccj/people/hinduja/
-Pennsylvania Act 26 of 2015: In 2015, the General Assembly of Pennsylvania determined cyber-harassment is a criminal law.
-Cyberbullying is included under H.B. 1067, 2008: 24 Pennsylvania Statutes §1303.1-A. This bill requires Pennsylvania schools to establish policies prohibiting bullying.
– 18 PA. Cons. Stat. Ann. § 2709 (harassment) can be used to punish cyberbullies and charge them with a criminal act. This statute also details cyber harassment of an adolescent and includes bullying by electronic means.
Related Articles