PA House Enacts Act 24
April 27, 2016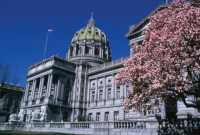 The General Assembly of Pennsylvania recently passed House Bill No. 12, amending Title 23 (Domestic Relations) of the PA Consolidated Statutes relating to divorce. Introduced by Representative Michael H. Schlossberg, the legislation provides simple and meaningful reforms to better protect victims of domestic violence. Summarily, the amendment streamlines the legal process to dissolve a marriage when there have been instances of spousal abuse.
Under the prior law, if the abusive spouse did not consent to the divorce, the marriage could remain intact for two additional years. Under the new law, upon showing that the abusive spouse was convicted of a crime and the filing spouse was the victim, the innocent spouse can obtain a divorce in the same manner as if the convicted spouse consented to the divorce.  Additionally, the victimized spouse is no longer required to undergo court-ordered face-to-face counseling with the abusive spouse.
Terminating a marriage is a legal process that involves confronting the other spouse. This can be painstaking and difficult for victims of abuse. This amendment affords victims greater control over the decision to escape the abuse.
http://www.legis.state.pa.us/cfdocs/billinfo/billinfo.cfm?syear=2015&sind=0&body=H&type=B&bn=12
Related Articles